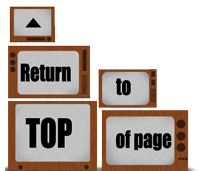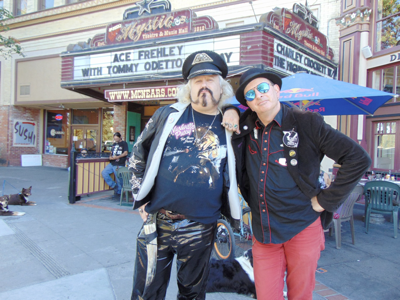 Reality Check TV (RCTV) is the television showcase for alternative celebrities, cutting edge performance, the hottest underground bands and the world's strangest nightclubs. RCTV is an all access backstage pass, a perpetual name on the guest list and an invitation into the underground scene! Reality Check shoots live on location, showing actual performances mixed with exclusive backstage interviews, humorous commentary and the adventures of the RCTV hosts and crew. We now bring you into the world of Reality Check TV with producer and host Ace.
Interview Meikee Magnetic
Where were you born and where are you now?
Born in Brooklyn, NYC, now residing in SF. I celebrated my 30th anniversary in The City in February of this year.
Explain to our readers what Reality Check TV is:
Reality Check TV, at its core, is a video fanzine that covers Pop Culture, Classic Film and TV Stars/Personalities, Hard and Heavy Music (hard rock, Punk, Heavy Metal), Performance and other artistic mediums, adult Entertainment and whatever else we find interesting. It's all done with a certain kind of reverence and enthusiasm that is genuine. We enjoy investigating cool stuff, and presenting it to our viewers. The general vibe is that life should be fun, and retaining a sense of wonder about stuff is a good idea. Not only that, we hope to see you out there supporting all of these endeavors, having a good time at the next event or show with us!
Who are the Reality Check TV team members and what are their roles?
The people involved are: Danny Shipman, who is mainly responsible for editing each show. He does a lot of the heavy metal band interviews, and is the resident "girl band geek". He gets the shows done and sent in for broadcast, along with posting it online; David Dragon is mostly an interviewer who does a lot of celebrity and adult entertainer interviews.
Myself (Ace Annese) chiefly in charge of doing rockstar, celebrity and pornstar interviews; plus I do most of the organizing for the live showcases or milestone celebrations we often do, and MC/DJing related to that as well; and Hugh MacKenzie, who we blame for getting us all into this fine mess. He is the Executive Producer, the guy who essentially created the show and is the main camera person. Hugh is also the man who is the resident tech wiz and website designer. We give praise to our fearless leader and creator, the Mighty "Huge"!
More recently, we've been getting a lot of action in regard to documentary films via our RCTV Studio division. We've contributed footage, and also done editing and/or post-production work on a number of films, TV programs and direct to DVD releases. We recently did an EPK for a company called Sungrown Zero, which is helping them to raise capital via investors for their innovative cannabis tech; contributed footage to documentary flicks like L7's 'Pretend We're Dead', which played at a bevy of film festivals, and RAVEN's 'Long Day's Journey Into Night…' double DVD, which had tons of our stuff in there. We've had quite the roster of clients, including Testament, Jetboy, Skinlab, E! True Hollywood Story, and corporate clients of all kinds. See http://rctvstudio.com for more.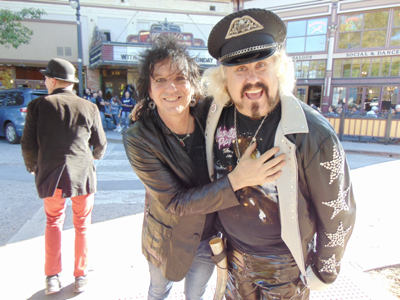 How did it all start for you guys and how long has the show been around?
The show started in 1991, ostensibly as an Alternative News program, documenting the protests of the Gulf War at the time. It devolved into the goofy program we know today as it started to just capture the SF underground – DIY artshows and parties, and people in the scene.
When both myself and Danny jumped onboard, we brought in the music element, getting bigger bands touring through SF as headliners for the episodes. Over time, we added the Sci-Fi/horror/Comic Book conventions that were just starting to crop up in the early 1990s, and then the adult/XXX performer angle kind of completed the menu. We recently surpassed the 700th Episode, which featured PAUL STANLEY of KISS, BILL WARD, original drummer for BLACK SABBATH, and RICHIE SCARLET, better known as "The Emperor of Rock 'n' Roll", a dear friend who has played with everyone from Chubby Checker and Sebastian Bach to Ace Frehley's Band. Epic!
You guys have had so many icons on the show, too many to mention. Who are some of the stand out interviews you've had?
Speaking only for myself, STAN LEE (Marvel comics, writer and co-creator of Spider-Man, Fantastic Four, The Hulk, etc, etc), one of my literary and pop culture gods whom I worshiped from my earliest days in elementary school. I interviewed him for the first time at an appearance at a comic book store down on the Peninsula, and it went so well, he complimented me as having been "a really good interviewer". Stan Lee has been interviewed a zillion times by big names and on major programs. But he enjoyed our chat enough to give me props. Pretty fucking cool. And we have it on camera!
What was the most difficult show to tape?
None, really. We just tend to "run and gun", with a simple set up and small cameras. Occasionally, an interviewee will be difficult to glean info from, or sometimes just not want to talk. That's the times when it is difficult or disappointing.
Reality Check TV seems to be everywhere from SF to LA to NY. How is each city different and why?
Actually, if we include Vegas in there, which is another one of our haunts, it seems that we kind of bump into a lot of the same people we've gotten to know over the years at the events we go to in each place. There's a lot of blurring of the lines, so to speak, since there is crossover amongst the stuff we like to cover. The settings change, but there is also a continuity to it all.
After all your accomplishments and amazing memories, what would you say is your ultimate goal?
After over 700 episodes, we certainly do have a treasure-trove of amazing experiences documented. It can be overwhelming to ponder the enormity of the archive we have. As far as an "ultimate" goal? I think the direction we seem to be going in is documentary films and related projects. And that's great, because I love working for us. It doesn't feel like work when we are doing a project we generated, or someone asked us to do.
Who would be your dream interview?
Again, speaking just for myself, either of the surviving Beatles, Keith Richards of the Rolling Stones; any of the surviving members of Led Zeppelin; Aerosmith; Brian May of Queen; Robert DeNiro; Clint Eastwood; Jane Fonda; and one major personal quest is to finally have the only original member of KISS I haven't interviewed, ACE FREHLEY, on the show. We've met a bunch of times, but can never get him on camera. One of these days…
What do you have coming up?
The new Year brings our annual trips to LA for the NAMM Show, and AVN (Adult video News) Convention, then I will begin the process of finding local bands for the annual Haight Ashbury Street Fair Battle of Bands Fundraiser. This will be my 9th year doing that. I also MC the event and the actual Haight Ashbury St. Fair itself in June. There is a documentary that is going straight to video called BAND VS. BRAND, which Cleopatra Entertainment is releasing in the 1st quarter of 2019, which Danny and Hugh just put finishing touches on. Next up is another doc that will focus on SF Thrash Metal, which is all part of the Inside Metal series, produced/directed by a swell guy named bob Nalbandian. We just did another project with Bob called 'Underbelly: Beneath The World of Porn', in conjunction with director Robert "Corpsy" Rhine, best known for his wild magazine called Girls 'n' Corpses. That did very well in screenings, and is now available for both streaming online and on DVD. To find out more in general, and to link to RCTV's social media, as well as see video from the show. You won't be sorry. There's merch for sale too!
What does Dark Beauty mean to you?
Good question! I've always had a fascination with the darkness, and the strange and wonderful things it shrouds. Part of what RCTV is all about is delving into things that inhabit or occupy the night. We've even been to the actual Dracula's Castle in Transylvania!