Amazingly enough, this "video journal of underground culture" got its start because of a Gulf War protest.
"I was working at the Fairmont [Hotel] at the time and the protests were going on down on Market Street," says Reality Check co-creator and executive producer Huge when we speak at a Richmond District restaurant. "So I said, "I'm going to borrow that [camera] and show all the mayhem that [is] happening.'"
After documenting the chaos, the now-39-year-old New York transplant decided he wanted to air the footage on San Francisco's cable access television station (then Channel 25). His idea for an alternative news program quickly morphed into "a parade of tits and ass" as he and his bandmate, Moca D. Lite, realized they could promote their fledgling group Maximus and showcase the weird shit that happened every time they left the house. After taking the prerequisite instructional classes, the pair aired the first episode of Reality Check on a Tuesday afternoon in September 1991. It featured the war protests, a house party, several bands, a girl they'd followed home, and various "shenanigans" at Murio's, the Nightbreak, and other Haight Street haunts. Masterpiece Theatre it was not.
But high art was not the intention: The show's creators merely wished to capture the wacky underbelly of San Francisco society with their tiny Hi8 camera. "We'd try to find the cockeyed humor in everything," Huge says. Classic early episodes included "See You Next Tweak," in which the duo spent all night with a bunch of furniture-arranging, paranoia-spewing speed freaks, and "The Show With Three Jennies," in which a friend brought home three different Jennies from three successive raves.
Still, the program didn't really hit its stride until Ace and Danny joined in 1993. Ace (aka Edward Annese), a 39-year-old Brooklyn native and current writer for Bay Arts and Music and knac.com, was a DJ at "Bondage A Go-Go" and a hard rock columnist for several fanzines. One night he went to the Paradise Lounge for a show. "I saw this thing on the wall that said, "If you enter the premises, you agree to be filmed for Reality Check TV.' I thought, "That's pretty ballsy for a tiny company to put that up like a big media company. I've got to meet this guy.'"
Ace suggested Huge come down and film the wild smack-and-tickle shows at "Bondage A Go-Go." Soon, Ace and the club became regular fixtures on Reality Check, and it wasn't long after that that he had his own segment, "Ace's Space," devoted to local and national celebrities.
For his part, Danny, a 34-year-old telemarketer from Watsonville with headbanger hair and a love for metal and shock rock, first met Huge during a segment chronicling his roommates' Kiss "museum." Afterward, Danny ran into Huge again at the fourth annual Battle of the Bands at Big Heart City, and Huge stuck him in front of the camera. With his musical knowledge, his fanboy enthusiasm, and his pronounced stutter, Danny made an unorthodox and oddly endearing interviewer. By 1995, when Huge's job as an Avid video editing technician began to eat up his time, Danny took over as Reality Check's main producer and editor.
The last piece of the puzzle was Dragon Dave (aka Dave Dragon), a 33-year-old salesman and sometime movie extra from Colombia. Dave began in 1997 as one of many guest interviewers; when he wanted to become a permanent host a year later, the other three honchos were apprehensive.
"A lot of people wanted to horn in on the show without really helping," Ace says.
"I had to figure out what I had to give that they didn't have," Dave says. "I knew a lot of XXX stars from working at a video store where they would come in when they would feature dance. When I told [the other hosts] about it, they said, "OK!'"
"We needed something to show more T&A," Danny says matter-of-factly.
By 1999, the show was really rolling. It had picked up two Cable Access Awards -- for Best Music & Variety Show and Best Rock & Roll Video Show -- and its hosts were starting to get recognized on the streets and in bars. They had interviewed such well-known rockers as Joey Ramone, Glen Danzig, and Motörhead, over-the-hill TV stars like Adam West (Batman), Al Lewis (Grandpa Munster), and Elvira, and porn stars like Marilyn Chambers, Nina Hartley, and Ron Jeremy. Singer Falling James of L.A. punk band Leaving Trains ranted about politics and his ex-wife Courtney Love, musician and producer Todd Rundgren lamely tried to pick up girls at Burning Man, and Penthouse model and porn star Teri Weigel gave Dragon Dave a hot scoop he'll never forget (or forget to talk about). On various episodes, the show featured artists who juggled fire, hung by nipple piercings, and fought with grotesque, spongy hellspawn; it also traveled to comic conventions, sci-fi conventions, merchandise conventions, the Exotic Erotic Ball, the Grammies, and the Vans Warped Tour. "I was trying to spur on the image of us having this never-ending party," Danny says.
"It's a way for people who normally wouldn't have exposure to this stuff to see what it's about and come on down and join us," Huge says.
Some of the shows' fans did get to meet its makers when Reality Check recently celebrated 10 years (and 220 episodes) on the air with a party at "Stinky's Peep Show" at the Covered Wagon. Local punk bands Barbee Killed Kenn and American Heartbreak performed, along with out-of-towners Betty Blowtorch and the Real Kids. Ace brought along some of his friends from the New Century Theater strip club, while contortionist Suzy Ming undressed backstage to the pun-filled banter of MC Count Dante (Incredibly Strange Wrestling). The crowd had an exuberantly shabby, Back in Black feel, as if the economic ups and downs of the past five years had never happened. But there was an odd vibe -- especially in that back room -- of horny desperation, the kind you get only when older men ogle half-naked young women. At one point, a female friend turned to me and said, "There's just nothing here for me to watch."
Reality Check programs do tend to err on the side of the lusty and the busty, about which its hosts are mostly unapologetic.
"My wife has been offended a few times," Huge admits. "I can count on one hand the times it's happened, but it has."
"Some things have bordered on the obscene," Danny says. "Huge had a girl getting her vagina pierced. I didn't put that on but I put Teri Weigel's pierced vagina on. We had a call from a woman saying that was offensive. But there's no violence on our show. Everything's done with an element of fun."
"George Carlin said it best: "I'd rather watch two people making love than two people killing each other,'" says Huge.
"There's not a show that covers girl bands that rock like us," Danny says. "I don't see any other TV show giving women artists that much exposure, and that's something I'm really proud of."
With all the changes that have occurred in the city during the show's 10 years, the hosts have remained surprisingly immune. "I just concentrate on the freakiness and don't bother with the other stuff -- the dot-coms, the money," Danny says. "I grew up as a guy that was an outcast and that's why I've been attracted to the freaky side of life. San Francisco will always have that."
And Reality Check will be there to capture that freakiness with, as the hosts often say, "no cost to you, the video viewer."
In the end, it is Danny who offers the perfect summation of his program: "Just like Kiss made the band they wanted to see, we made the show we wanted to see."
Danny, Ace, and Dave also host a weekly radio show on Tuesdays from 10 p.m. to midnight on KOFX-FM, 90.9 (it will soon move to KOOX and an as-yet-undetermined frequency). And there's another anniversary show in the works that will focus on local metal bands. Visit www.realitychecktv.com for more information.
Back in 1994, Dan Strachota worked with Ace Annese at a strip club restaurant. No, he was not a dancer.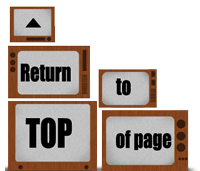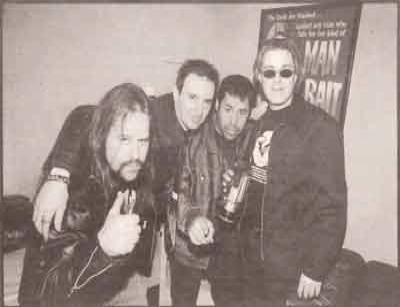 Check Your Head By Dan Strachota
For some people, the American Dream is about getting a high-paying job, raising a family, and buying a house in the suburbs. None of those people will ever be featured on Reality Check. The show's host and editor claims it is for a particular kind of Everyman. "Reality Check is the show for the all-American guy," says Stuttering Danny D (aka Danny Shipman).
According to the long-running, award-winning, underground-trolling cable access show (Saturdays at 11:30 p.m. on Channel 29), all-American guys hunger for the holy trinity of sex, drugs, and rock 'n' roll. For 10 years now, Reality Check has been supplying all three in abundant, off-the-cuff fashion, whether it be taste-testing Burning Man specialty cocktails, or interviewing metal giants like Alice Cooper and punk upstarts such as the Donnas.
Over time the show's crew has highlighted the noisy, salacious, and totally bizarre, gaining fans such as Rancid's Lars Frederiksen and Metallica's Kirk Hammett along the way.