Thomas Kinkade's Christmas Cottage was produced with Lionsgate in 2007. This film is the first venture into motion pictures for the world famous artist who is known as "The Painter of Light".

Inspired by the picturesque paintings of Thomas Kinkade, The Christmas Cottage tells the semi-autobiographical tale of how a young boy is propelled to launch a career as an artist after he learns that his mother is in danger of losing the family home.

Michael Campus directs a film written by Ken LaZebnick and co-produced by Thomas Kinkade. Jared Padalecki plays a young Thomas Kinkade, while Peter O'Toole plays his mentor Glen Wessler. The cast also includes Marcia Gay Harden as Thom's mother, Aaron Ashmore as Thom's brother Pat and Richard Burgi as his hard living but inspirational father Bill Kinkade. Look for great performances by Chris Elliott, Richard Moll, and Edward Asner.

Necessity is the mother of invention. In the 1980's, Maryann Kinkade is behind in her mortgage payments and about to lose her small house in Placerville, a town in California's gold country in the foothills of the Sierra Nevada. Her son Thom, who's attended art school and is in his 20s, determines to make the transition from amateur to professional painter to help save the family's home. He seeks advice from an aging mentor.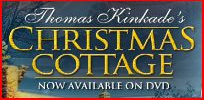 Producer / Director Michael Campus