THE ORIGINAL POP CULTURE UNDERGROUND VIDEO SHOW
A ROCK AND ROLL BACKSTAGE PARTY ADVENTURE !!
Reality Check TV (RCTV) is the television showcase for alternative celebrities, cutting edge performance, the hottest underground bands and the world's strangest nightclubs. RCTV is an all access backstage pass, a perpetual name on the guest list and an invitation into the underground scene! Reality Check shoots live on location, showing actual performances mixed with exclusive backstage interviews, pun-filled commentary and debuts of underground films and music videos.
RCTV's innovative work with digital video won two Cable Access awards (1997, 1998), the San Francisco Bay Guardian Newspaper's Best of the Bay award for Best Rock and Roll Video Show (1997) and Best Website (1999), San Francisco Weekly Reader's Poll Award Winner (2003), a Telly Award for video editing and a prestigious JOEY award. RCTV has broadcast over 600 half hour episodes, 5 one hour specials, multiple streaming live special and thousands of clips streaming online. Reality Check footage has been seen on E! True Hollywood stories, on MTV, on ABC NEWS and in several award winning film and video documentaries.
The hosts are the "Four Who Have Fun" : Danny, Huge, Ace and Dragon Dave. The fun continues with co hosts Scotty, Ron Skullsmasher and other famous (an infamous) Celebrity hosts.
Now franchising across the US, Reality Check TV has shows in Sacramento starring Cameraman Kev and his lovely host Shell, plus more franchises opening in Las Vegas, New York and other major cities.
Reality Check TV has fans worldwide. The show is ready made for advertising life style products such as drinks, automobiles, consumer electronics, clothing and entertainment.
WHAT IS REALITY CHECK TV ?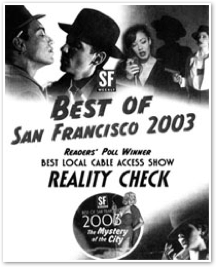 REALITY CHECK TV - TAKING ON THE MEDIA WORLD
The boys and girls over here at Reality Check TV are getting some big things ready for the later part of 2015. Not content to be just the heroes of underground TV and the originators of Gonzo media, they are ready to take on the big kids on the media scene. Look for a new version of the Reality Check TV half hour TV show coming soon to a broadcast TV network right here in the Bay Area. RCTV will be expanding to new places on the web. Your smart TV may become a little dumber when RCTV comes to you on a streaming network. And of course there will be more LIVE events co hosted by RCTV.
You got Ace's Space Radio sending ripples through the podcast-o-sphere, Danny as an actor here in San Francisco, Dragon Dave continuing his Hollywood career and Huge up to no good making deals with Silicon Valley titans. Cameraman Kev and Metal-mom Shell have captured the Nor-cal market with Reality Check TV Sacramento and more franchises are on the way. REALITY CHECK TV began disrupting media in 1991 and is still shaking up the industry. What are you waiting for? Tune in, Turn on and Get Real with REALITY CHECK TV - The Original Underground Video Network!!

Reality Check TV SAN FRANCISCO
COMCAST CH 29 SATURDAYS 10:30 PM
Watch the show online anytime!



Reality Check TV SACRAMENTO
COMCAST CH 18 / AT&T CH 14
1st & 3rd SATURDAYS 11:00 PM
REALITY CHECK TV WINS THE AWARD FOR BEST ARTS AND ENTERTAINMENT SHOW !
Your favorite TV show and the ultimate video fanzine Reality Check TV wins the 2015 SF Commons Award for the best television show in the category of Arts and Entertainment!
All the RCTV crew was in attendance to receive the award and we celebrated with our fellow SF Commons producers. 'Natch the after party at RCTV HQ was a night to remember!
RCTV: 2015 San Francisco CABLE TV AWARD WINNER !!!
Check out all the shows on SF Commons HERE and keep supporting independent media!
RCTV is every Friday night 10:30 pm on SF Commons cable TV or live online!